ISSUE 01 RELEASE ANNOUNCEMENT
It's an exciting day for all of us here on the GODSLAP team. Today, after several years of hard work, we get to release the first Issue to the world. We get to let everyone take a peek inside of what we've been working so hard on. We get to see everyone immerse themselves into the world we've been tirelessly creating and endlessly loving. Most importantly, we get to start our journey on telling the story we want to tell; a story of finding purpose, of one's place in their world, with interesting and varied characters and a unique world full of extreme violence and incredible action. We finally get to begin GodSlap.
WELCOME TO GODSLAP
ISSUE 01 has been lovingly created by all of us here. It has truly been a collaborative team effort to release this. What started as an idea between Charlie and I has evolved to include our close friends: Matt and Danny, the incredibly talented artist: Ricardo Jaime, the wonderful comic writer: Stephanie Phillips and our fantastic Variant artists for ISSUE 01: Vincenzo Riccardi and Vamkire C. Trannel.  What we have ended up with is the foundation of what we're eager to continue building for many years to come. We want to forge relationships between you and the characters we put onto the pages and we want to give you the excitement we all feel when we ourselves think about the world of GodSlap.
Right now, ISSUE 01 is available to order directly on the website here. The Standard copy of ISSUE 01 will continuously be restocked as need be and will be available for the foreseeable future. VARIANT 1 and 2, created by the aforementioned artists specifically for ISSUE 01, are limited to 6,000 copies each, though, so be sure to get in quick if you want to commemorate the launch experience with a special VARIANT cover. We will not be restocking these covers once they are gone so they will remain a timeless collector's piece when GodSlap comes to rival that of Star Wars and the Marvel Cinematic Universe.
We also have posters available to celebrate the launch of ISSUE 01, with all three covers available. These aren't limited, so you'll be able to snag these for as long as they stay on the storefront. If we ever remove an item from circulation, we'll be sure to give you all notice on our socials and the blog on this website before it's removed.
We're pleased to confirm that all DOMESTIC orders of GodSlap Issue 01 (including the posters) will have free shipping. Sadly, we were unable to provide this for INTERNATIONAL orders as international shipping prices are far more expensive for us... but, that brings me on to the next topic.
SHIPPING AND DIGITAL ACCESS
Some fans may remember the shipping issues we had during the limited GODSLAP PROLOGUE launch event that we held last year. We've been working over the last year to ensure that the process for shipping is far smoother than it was last year. I'd like to request that anyone who has not received their PROLOGUE issue yet to please reach out to @GODSLAPOFFICIAL on twitter immediately and we'll issue endeavour to issue a refund. We'd also like to remind everyone that the GODSLAP PROLOGUE limited edition comic contained the first 15 pages of Issue 01, so you'll be able to experience the entirety of the content that was contained in the PROLOGUE in ISSUE 01 itself if you missed out on that particular release.
On top of that, we'd like to also happily announce that we're offering a DIGITAL version of ISSUE 01 as well. This is a solution to those who may not be able to currently afford a physical copy of ISSUE 01, as well as being a solution for those who can't stomach international shipping costs. This is exciting for us as we want nothing more than for everyone to experience GODSLAP. Our goal was to bring GODSLAP to as many people as possible and this is a step in that direction. Please read the DIGITAL GUIDE article for more information on how to access your DIGITAL copy of GODSLAP. If you at all ever need any support with your orders or more information, please contact support@godslapbook.com or use the little blue icon in the bottom right corner of the site to contact one of our support members.
LOOKING FORWARD TO MEATIER SLAPS...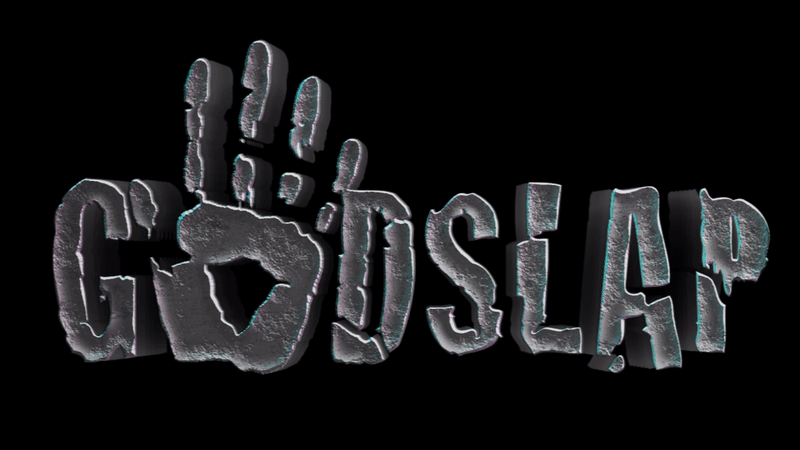 This is just the beginning of our plans for GodSlap, even in the immediate future. We'll have another article posted on the website, in just a few hours, showing off a kickass animation created by the talented guys at Sakowski Studios in celebration of the launch of ISSUE 01. Beyond that, we have more GODSLAP merchandise being worked on and, of course, the NEXT ISSUE of GODSLAP ready for release in just a few short months. If you would like to stay up to date on this adventure with us, please follow our twitter account and bookmark this website. We'll be posting news frequently here and keeping you all posted on what's coming next.
We're so excited, thankful and, admittedly, nervous about beginning this journey with you all but we wouldn't have it any other way. We appreciate you taking these first steps with us and we can't wait to share more with you over the next few months.
Thank you,
Jackson Clarke + GodSlap Team
---